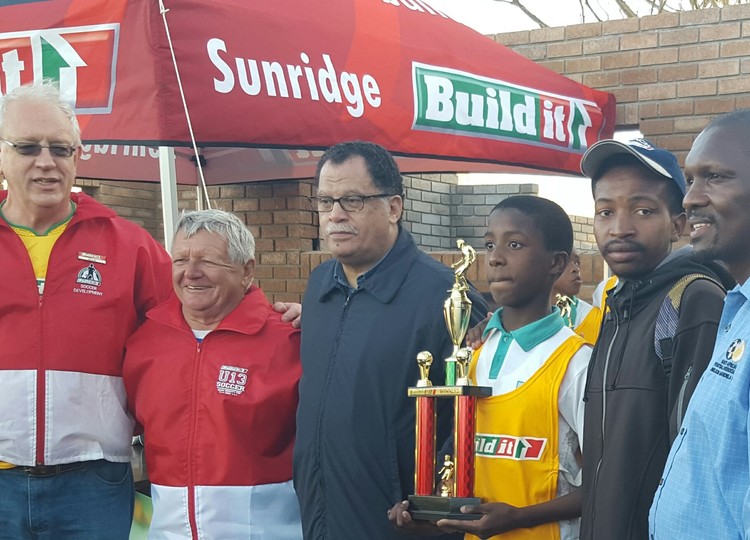 Eight teams competed in the Sunridge Build It/PEFA U13 soccer tournament, hosted by the Callies Football Club in Londt Park on Saturday 22 August 2015 and the players had great fun.
Festivities kicked off on Friday 21 February with Clive Barker, former Bafana Bafana Coach, running a coaching clinic.
Round robin matches in two pools kicked off at 09:00 on Saturday. Each team played at least 4 matches and the finalists 6. This not only made it a great day of soccer for each player but it also gave Clive Barker and Siya Gwambi, PEFA Chairman of Technical & Development, the opportunity to select a 20 man "Dream Team".
The players and spectators were excited and inspired by the presence of Coach Clive Barker on the day. Great was the response and appreciation when our Mayor, Dr Danny Jordaan and SAFA NMB President, Monde Mhletywa, arrived for the final game between Motherwell AFC and Greenwood Primary and prize giving.
The winning team Greenwood primary, not only got themselves a trophy, sports bag and soccer kit, Mr Monde Mhletywa also gave each of the players in the finals, winners and runners up, tickets to Tuesday night's Chippa United's game against TUKS at the NMB Stadium. The Greenwood Primary Team will be the ball boys at the game.
The goal keeper of the tournament is Sifiso Mokoena (F C Mabayibone), the scorer of the tournament is Ntando Ngoqo (Greenwood Primary) and the player of the tournament is Thando Jacobs also from Greenwood Primary.
It was a great event, well organised by Sunridge Build It and the PEFA, hosted by Callies FC. "It was a honour and pleasure working with the dedicated team people from the PEFA." Said Willie Zevenster from Sunridge Build It. John Oddy, PEFA Junior Chairman and tournament director, did an outstanding job with the setup and running of the tournament. With Francois Rothman, President PEFA, behind the microphone, controlling the games, the day went extremely well. "This was the best organised junior event I have been at" – Clive Barker.
Other Results
Quarter Finals
Schools
Points
Greenwood Primary vs Parsons Hill Primary
4, 2
Callies vs St. Georges FC
2, 1
Rowallan Park Primary vs Kabega Park Primary
4, 2
Motherwell AFC beat FC Mabayibone on penalties
Semi Finals
Schools
Points
Greenwood Primary vs Callies FC
2, 1
Motherwell FC beat Rowallen Park Primary on penalties
Finals
| School | Points |
| --- | --- |
| Greenwood Primary vs Motherwell | 2, 0 |