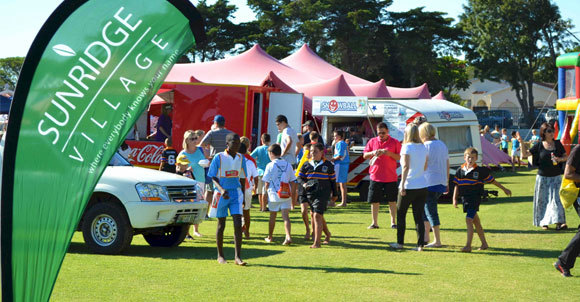 Published April 22, 2014 08:51
We'd like to thank everyone who joined in on for a fun filled day on Saturday 12 April at Charlo Primary School for the 2014 Charlo Seven-A-Side Rugby and Netball Tournament.
The Carnival, taking place at the same time, adding a fantastic vibe, was filled with food stalls serving Hamburgers, Sosatie Rolls, Boerewors Rolls, Chip n Dip and many more delicious treats. There was a Tea Garden and Beer Garden (with big screen TV) and Fun and Games for all ages. While the carnival was in full swing, the Rugby and Netball matches were played on the adjacent fields.
21 Schools were represented by 48 Teams with 424 competitors (Each team with a coach and manager) and far more than 1000 visitors/spectators. The young sports boys and girls played a total of 114 Matches on the three sports fields made available.
Congratulations to all the teams - Each and every school had such amazing students representing them and our local Sunridge Primary had finalists in all 3 divisions, U11 and U13 Rugby, and U13 Netball!
Sunridge Village Marketing, Keg & Swan and Sunridge Build It made substantial contributions to the expenses for the tournament. Keg and Swan also provided lunch for the 50 helpers at the tournament. Sunridge Build It provided each coach with a T-shirt and cap, and trophies and sports bags for the runner-ups and winners. Each competitor got a goody bag filled with all sorts of things from different sponsors
After this great, well organised event, we look forward to another fantastic event next year.