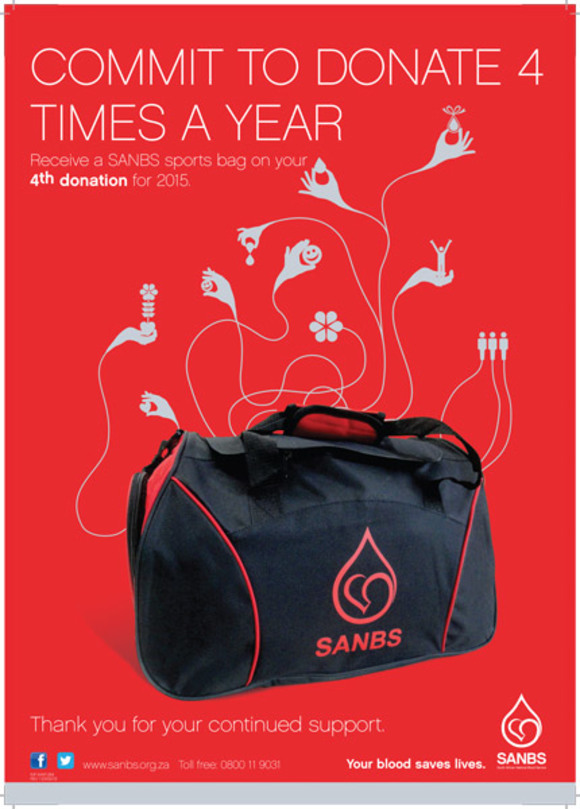 Published March 06, 2010 07:39
Any person who donates blood 4 times successfully in 2015 will qualify for a SANBS sports bag.
A person may donate blood every 56 days. We try to visit organisations 4-6 times per year. The frequency of our visits is determined by how much blood we collect during these visits. The latest you are able to donate your first unit of blood to still qualify is at the end of May 2015. So please, don't delay, start donating to ensure you qualify.
Donors who are unable to donate blood 4 times due to medical reasons will qualify for a conciliation gift but only if 4 attempts to donate was made (a donor must have registered to donate). Normal blood donor criteria applies with this promotion. Please visit www.sanbs.org.za for more information.
If you missed out on a blood drive at your organisation, please remember that you may visit any blood donor centre to make up that donation, as it will still count.
Please share this message as far and wide as possible to ensure we collect sufficient safe blood for the patients of South Africa. We rely on your on-going commitment and support to make 2015 a record year in terms of blood collections.
Please remember to like our Facebook page.
Donor Centre Information:
PE Donor Centre (Provincial Hospital Grounds, Buckingham Road, Mount Croix)
Monday to Friday
09:00 - 17:00
Saturday
08:00 - 14:00
Tell
041 391 8200
---
Walker Drive Donor Centre (above Bonamia)
Tuesday to Friday
09:30 - 18:00
Saturday
08:00 - 14:00
Tell
041 360 4161
---
Cleary Park Donor Centre (banking mall)
Monday to Friday
09:00 - 17:30
Saturday
08:00 - 14:00
Tell
041 482 0020
---
Uitenhage Donor Centre (2 Billson Street)
ONLY Mondays and Thursdays
10:00 - 18:00
Tell
041 992 4844